Tourist Destination in Yogyakarta
Who does not know Jogja? This city in Central Java is always crowded with tourists during holidays. Jogja or Yogyakarta is a major tourist destination for many Indonesians after Bali. As the name suggests; Special Region of Yogyakarta, this city is very special because it is one of the cities in Indonesia that still has a royal family.
The Yogyakarta royal family was led by a Sultan who until now has been highly respected and respected by the indigenous people of Yogyakarta. Another feature of this city is the number of temple remains scattered in various regions. The temple in Yogyakarta is even included in the list of world heritage sites.
Tourist Attractions in Jogja
Apart from temples, Yogyakarta also has many other tourist destinations, both cultural nature tourism, shopping tourism and culinary tourism. You will need a long time to explore Jogja, it won't be enough with just one or two days.
Here are some tourist attractions in Yogyakarta that you must visit :
1. Borobudur Temple
Borobudur Temple is very famous in the world. This temple is included in the UNESCO World Heritage list. This temple is the largest and most comprehensive Buddhist temple in the world.
Viewed from above, the shape of Borobudur Temple resembles a lotus flower, which will be very beautiful when viewed at sunrise or sunset.
Located about 40 km northwest of Yogyakarta, the temple which has 72 stupas has always been one of the main tourist destinations, both domestic and foreign.
2. Prambanan Temple
Another famous temple is Prambanan Temple . Located about 17 km from the center of Yogyakarta, Prambanan Temple is the largest Hindu temple in Indonesia. This temple has a relief that tells the story of the Ramayana and Krishnayana.
In this temple the Rama Shinta performance was also held. The normal days of the show are held indoors, on full moon nights the performances are almost always held in an open space with Prambanan Temple acting as a backdrop, giving a beautiful view.
Because of its location which is not too far from the city center, it is not difficult to reach this temple. Public transportation is also available to this place for those of you who do not bring private vehicles. This place is no less attractive than new tourist attractions in Jogja, which keep on appearing.
3. Indrayanti Beach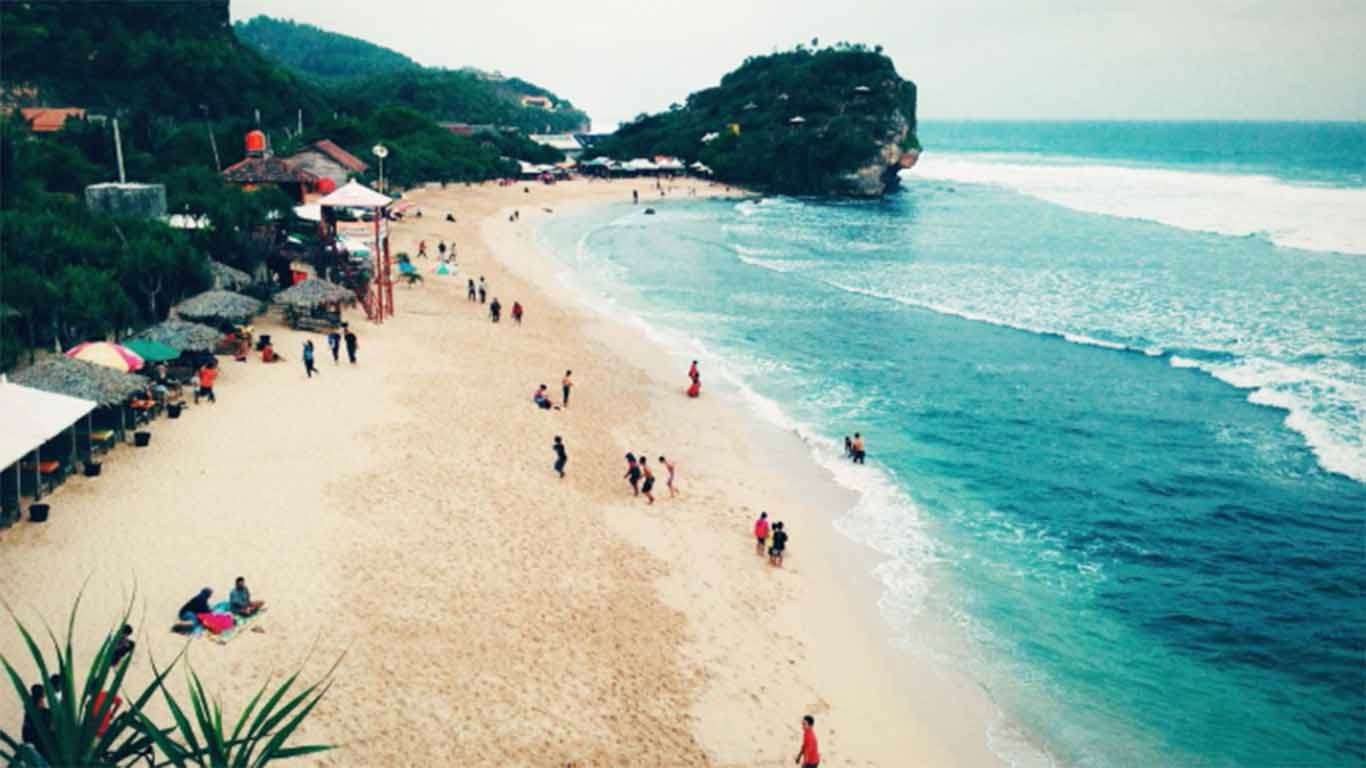 image from : hargatiket.net
Indrayanti Beach is one of the beach tourism destinations in Jogja which is now quite popular.
With a clean white sand landscape typical of the south coast, beautiful scenery, and fairly complete facilities, this beach has become a tourist destination.
In addition, the location is not far from other popular beaches. For example, krakal beach, sundak beach, or single pok beach.
So, you can simultaneously visit various other tourist attractions that are not far apart.
4. Malioboro Street
image from : hipwee.com
The most famous street in Yogyakarta is Malioboro Street . Along this road there are shops and street vendors selling a variety of goods, from clothing, handicrafts to food. One thing that is unique about Malioboro is the food seller Lesbian.
This Lesbian food seller will hold his Lesbian after 5 pm. Malioboro Street will be more crowded at night because in some places there will be several groups of street musicians who will entertain visitors with their songs.
Also at night you can also see some people wearing various kinds of costumes who will be willing to be photographed without payment. Malioboro Street is always interesting to visit. The atmosphere of this road is indeed unique, you who are looking for a night jogja tour can also take a leisurely walk here.
Malioboro Street can be said to be one of the mandatory photo spots in Jogja. It feels incomplete if you don't take a picture here.
5. Mount Merapi Museum
image from : alodiatour.com/
One of the tourist attractions in Kaliurang that must be visited here. The Merapi Volcano Museum was inaugurated in 2009, and is located about 5 Km from Kaliurang.
This museum is a means of education and information about volcanoes and other geological disasters. In this place also exhibited works of art that illustrate the origin of the story of Merapi
6. Kulon Progo Mangrove Forest
image from : airpaz.com
Want to play water? just visit Jogja Bay Pirates Adventure Waterpark. This place is one of the water games in Jogja, and is one of the biggest in Indonesia.
There are many water games for you to enjoy with your family. So, you can make Jogja Bay one of the family tourism destinations in Yogyakarta.
7. Kedung Pedut Waterfall
merapipesonajogja.com
Kedung Pedut waterfall is quite far from the center of Yogyakarta city, but it is still within the Yogyakarta region. Located in Kulon Progo, this place can be a tourist destination for those of you who like alternative nature tourism in Jogja.
8. Pengger Pine Forest
nativeindonesia.com
In addition to various beaches, in Jogja there are also many pine forests that are managed to become tourist attractions. One of them is the Pengger Pine Forest. Located on the outskirts of the Jogja area, you can enjoy the beauty of pine forests with fresh air.
9. Taman Pintar Yogyakarta
Want to visit educational sites in Jogja?
Just come to Taman Pintar Yogyakarta.
In this place, you not only travel with family, but you can also increase knowledge.
10. Nglambor Beach
In Yogya there is also a beach that can be used for snorkeling, you know, the place is on the Nglambor beach . Unlike other southern beaches, there is a lagoon with fairly calm water. We can enjoy the natural wealth here while snorkeling.
In addition, there are also a variety of unique and fun spots to take pictures. You can also cross to a small island using a rope bridge, while testing the guts! You must visit this Jogja tourist destination.
Destination
Indonesia
Trevelling